Robbers Cave State Park
Robbers Cave State Park
Robbers Cave Lodge
---
Whether named for an unwooded creek or ironically christened by French trappers to ward off competition, the untamed woods, bluffs and springs of the Sans Bois mountains have beckoned to generations of explorers. Ancient tribes, trappers and outlaws have escaped to these 'wood free' mountains, carving the timeless sandstone cliffs and stoic pines from a sacred hunting ground, mining camp and hideout into a preserve dedicated to the natural beauty and history of the area, Robbers Cave State Park.
While the resource rich area has always drawn hunters, trappers and miners, the mountains surrounding Robbers Cave really achieved notoriety after the Civil War with legendary outlaws such as the Youngers, Daltons, Rufus Buck Gang, Jesse James and even Belle Starr utilizing the area's natural amenities as a place to cool their heels from the long arm of frontier justice.
These legendary tales might have quietly faded into the hills if not for the donation of the land and establishment of a Boy Scout Camp in 1929. It's probably not much of a stretch to imagine young men sitting around the fire at Camp Tom Hale, one-upping each other with tales of desperados, bloodlust and treasure buried in the hills surrounding their camp.
Within just a few short years of the establishment of Camp Tom Hale, land from a nearby wildlife refuge was acquired and construction began on Latimer State Park as part of FDR's New Deal Program. Civilian Conservation Corps Company 1825 was established on July 12, 1933 and work on the park began in earnest. During their stint at the park, Roosevelt's Tree Army built cabins, roads, a bathhouse, group camp, shelters and dammed the Fourche Maline creek to create Lake Carlton. In 1936, they changed the name and shortly after Robbers Cave State Park opened as one of the Original Seven Oklahoma State Parks.
Through the years, this park has evolved to include a lodge, equestrian campground, ATV area and even offers unique stays, like yurts and a covered wagon. Campers can escape to the quiet with a stay at Eagle's Nest, enjoy a family-style campground next to the water below the dam or take in the wooded intentionality of the CCC-designed Old Circle campground.
This park offers a lovely case study in Parkitecture, the National Park Service rustic design aesthetic that informed elements of pre-war park design. When exploring the park, keep an eye out for the hand-cut metal signs throughout. When staying in one of the rustic cabins, be sure to check out the vernacular architecture-influenced design, featuring careful placement working with the landscape and use of native stone and live edge cedar siding.
From lakes and hills to woods and trails, Robbers Cave offers a treasure trove of delight for your family to explore.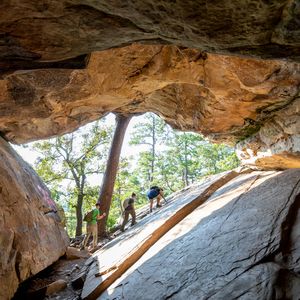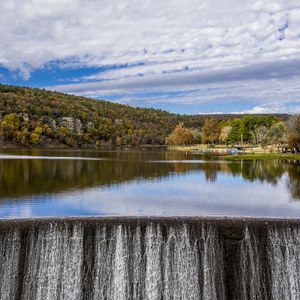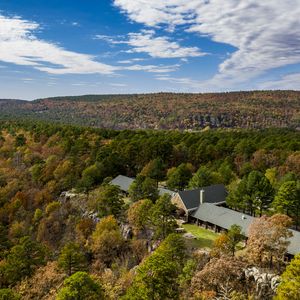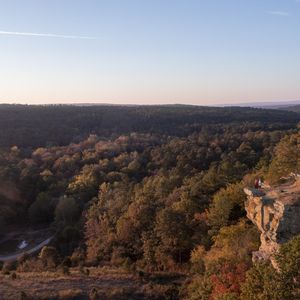 Activities
Canoeing/Rafting/Kayaking
Soundscapes
Pricing
Click for current pricing of
tent and RV campsites
and
cabin and lodge rooms
.
Amenities